Welcome to My IM Place
I created this site for myself and it becomes handy and helpful for many marketers (newbies and experienced ones)  everyday.
       1. Learn / Read
My IM Place delivers the most interesting and talked about stories and articles from Internet Marketnig niche right now. The Internet is full of great IM stuff, and My IM Place helps you to find, read, store and share the very best ones. It's simple and it's everywhere.
       2. Save / Store
I read a lot about new tools, tactics, plug-ins etc. as well as I find articles and other IM stuff, like for example Fiverr gigs. The best of them I want to have for later and I used to put the them to my browser's bookmarks.
But it makes A LOT OF MESS  – I COULDN'T STAND THIS SITUATION! (I think you know what I'm talking about).
And once upon a time I've lost an article which I found helpul and I could't find it in my mess to read it again (true story).
So I decided to make this website to have my own IM stuff stored in one, nice and clean place. My browser's bookmarks are full of other stuff, so this site gives me this comfort of easy way to find articles I want to read again, for several tactics, knowledge etc.
* Submit links you want to store and enjoy this site too. It's easy as (censored 😀 )
The easiest way to do that is to add the "Submit" button to your browser's toolbar and just press it while you're on the page you want to add.
Fast storing is an advantage of this method.
Of course you can also just copy the url and paste it in the proper place.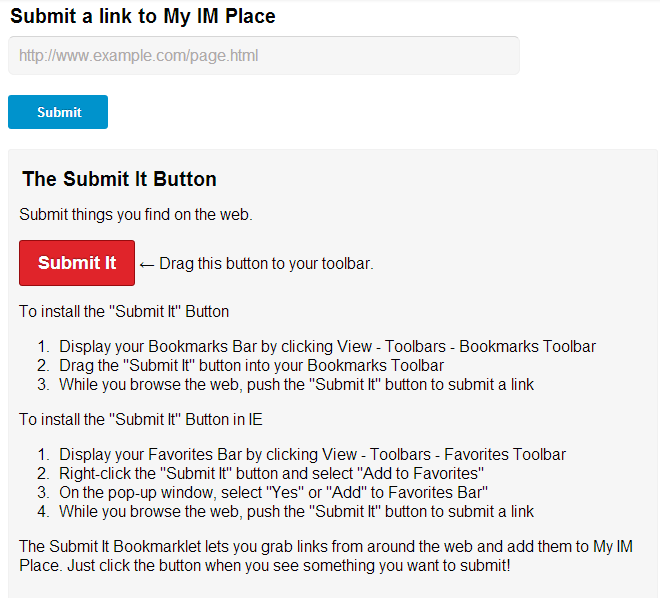 (All of the info and the button to drag you will find on Submit A Link page.)
Choose one of the categories.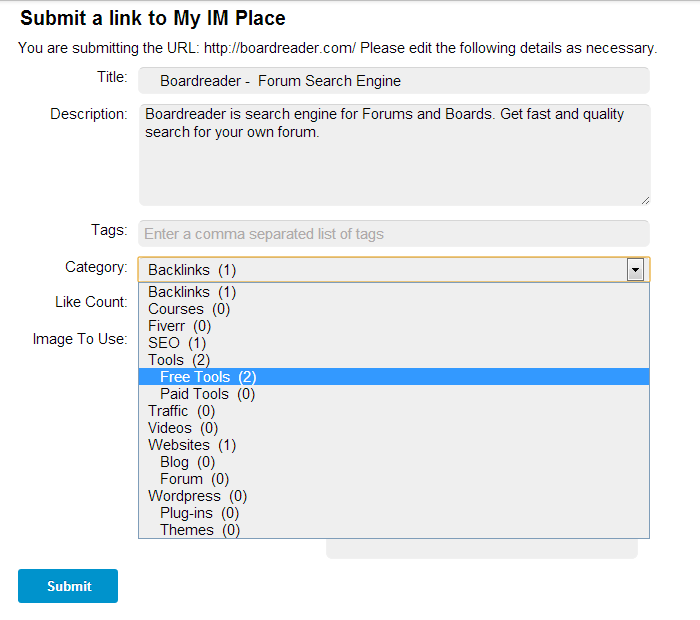 * Thank to "Save" option you can save the most interesting stuff to come back to it later.
You will always have it in your Reading List, unless you remove it from there.
Simple as that.
Submit Links, Read, Enjoy!
(NOTE: Links not related to IM niche will be deleted)
       3. Share / Promote
If you run a blog or a website, Bookmark Your Sites Here For Unlimited Free Backlinks! And Get More Views For Your blog/site.
PROMOTE YOURSELF FOR FREE!
Google loves backlinks from relevant sites, so backilnks from this site have more value.
By sharing your stuff via our Share buttons you have a chance to be in our Top Ratet articles.
Likes you see on my page are not facebook likes. They are our internal community likes.
Join The Community of Internet Marketers Today!
I set up my picture as a default image, so while adding a link you better choose a proper pic (from a source for example). If you don't, you will see my face (I set my picture as a default image for a joke) 😀
After some time My IM Place became also a digital marketing agency. Official website will be published soon. For now you can check one of our departments Medicine Pro. As I used to be a dentist, medical niche is familiar to me, so I help doctors to get more business better, because I know them needs.
Stay in touch.
Best Regards,
Luke Kubow, Founder Of My IM Place